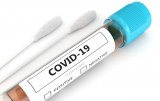 COVID-19 - Products for diagnosis
At the end of December 2019, cluster cases of pneumonia were observed in China, in the city of Wuhan (Hubei region). The majority of cases were linked to a live animal market in China: the Huanan South China Seafood Market. In January 2020, a new coronavirus (SARS-CoV-2) was identified as the cause of this COVID-19 disease. The importation of COVID-19 cases from China to other countries was observed from the beginning of the outbreak in Wuhan, but has intensified since mid-February, and has spread to Europe.
The global outbreak of the new coronavirus, SARS-CoV2, has caused the death of more than 3000 people and enormous economic damage. This number continues to rise. Early detection of the virus is essential to prevent it from infecting others. Diagnosis of CoV-2-SARS infection is a public health issue.
There are two types of tests that can be used to diagnose CoV-2-SARS infection:
The RT-qPCR test, which is considered the gold standard and detects the RNA of the SARS-CoV-2 virus.
The rapid test is based on the principle of immunochromatography and detects the presence of IgG and/or IgM against the SARS-CoV-2 virus.