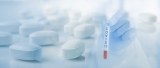 SARS-CoV-2 - Umifenovir - Candidats thérapeutiques
Umifenovir, whose trade name is Arbidol, is an indole-based, hydrophobic antiviral agent. It is used for the treatment and prophylaxis of influenza and other respiratory infections. At the moment umifenovir is only used in Russia (for almost 25 years) and China (since 2006), it is not approved in Europe. It appears that umifenovir exerts its antiviral effects through different pathways and its effects have been studied on a variety of enveloped and non-enveloped RNA and DNA viruses. It also appears that the development of resistance to umifenovir is very low.
Umifenovir is currently being investigated as a potential treatment and prophylactic agent for COVID-19 caused by SARS-CoV2 infections, in combination with currently available and experimental HIV therapies such as ritonavir and darunavir. These 2 molecules have not shown any benefit on their own at this time.
Cat#
Description
Size
Price Excl. VAT