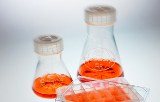 Flasks
We provide a wide choice of sizes and types of flasks, including Erlenmeyer, volumetric, flat platform, and culture flasks, to meet the needs of scientists working in a variety of disciplines. Our flasks' long-lasting construction guarantees accurate and dependable results for your experiments and research. Our culture flasks give the best conditions for cell development, culture, and maintenance, while our volumetric flasks enable precise volume measurements with markings and graduations.
All of our products adhere to strict performance and durability criteria as a result of our commitment to quality.
Our flasks and laboratory tools offer the accuracy and dependability you need to accomplish your goals for research, whether you're conducting chemical reactions, cultivating cultures, or measuring quantities. Discover why Quimigen is the go-to source for laboratory supplies and equipment for researchers throughout the world by perusing our inventory right now.